Discover more from Speaking Wrong At The Right Time
Adam B. Coleman's attempt at making sense of the world
Over 5,000 subscribers
Tomorrow marks my book's, "Black Victim To Black Victor", 2-year anniversary.
When I published the book, I had no platform. No one knew who I was. I was just an I.T. Manager who just wanted to express himself. 2 years later, my life has completely changed.
Speaking Wrong At The Right Time is a reader-supported publication. To receive new posts and support my work, consider becoming a free or paid subscriber.
I have no formal training in writing. Hell, I don't even have a college degree but I know how to effectively communicate and connect with people. I also let God work through me and I had faith that 9 months of hard work would pay off: it has in droves.
The goal of my book was to use the topic of race to talk about the importance of family, psychology and morality with strong storytelling, mainly about my childhood as someone who grew up without his father. I wanted to bring people together and leave something positive behind.
Only a handful of people knew that I was writing my book but my biggest support came from my now wife (fiancée at the time) who even helped edit the book. The book was also dedicated to my son, who would later read it & understand his father on a much deeper level.
On March 25, 2021, I just hoped that some people might buy it outside of my friend circle but I had no idea how much this book would touch people across the world. My goal was to reach out to podcasts & see if they would be interested and that's how my journey began...
I remember my first couple of podcasts where I was a little nervous but I was just glad that anyone cared to hear what I had to say. One of them was @Rule62peter's podcast, who would later become a friend and even attended my wedding.
I remember my first in studio appearance on @Stephen_Kent89's show. It was a surreal experience for my wife and I to be in a Television studio. I'm extremely thankful for his continued support of mine.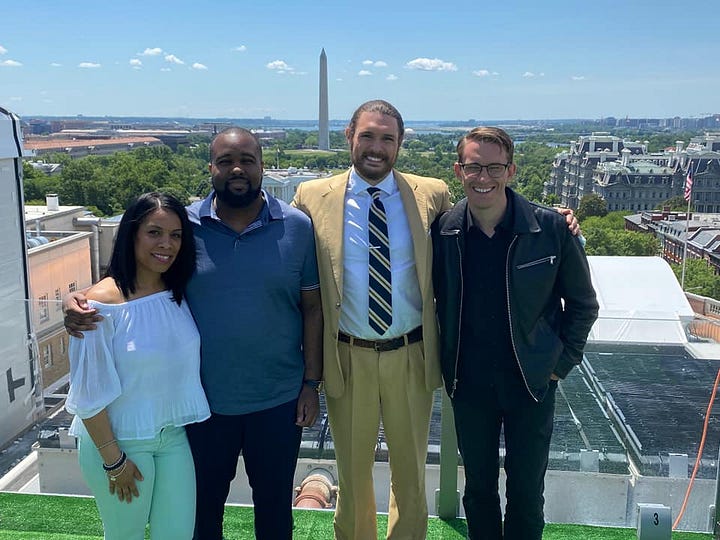 My involvement on Twitter allowed for me to connect with people and publications far beyond my wildest dreams. @bungarsargon has been a major supporter of mine & a brilliant mentor. Funny story: Batya couldn't use one of my articles for Newsweek so she suggested I send it to the NY Post…
24 hours later, @KJTorrance replied back "great article. It's going out today!" and I couldn't believe it! Kelly's mentorship and friendship has been absolutely amazing. She's made the NY Post a home for me to express myself on a weekly basis (as well as Human Events).
I've been fortunate to speak publicly and connect with people in-person. I remember my first public speaking engagement was a packed house of 600 people alongside 2 great men James Lindsay & Mike Gonzalez. I was nervous at first but came out of it with a standing ovation.
I was given the opportunity to give a writing workshop at the Moms for Liberty conference last year. A great experience to meet passionate parents who care about their children's outcome. I even got my book in the hands of Ben Carson & Betsy Devos. I'll be back this year!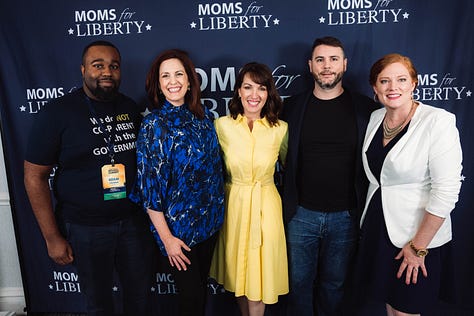 My growth in writing plus exposure on publication platforms have given me the opportunity to be featured as a guest on numerous television networks internationally. I'm now semi-regular on Mike Graham's show on the UK network TalkTV, who has been extremely supportive of my work.
My book has been in the hands of legislators on the state and federal level. I was even able to give a signed copy to Senator Ron Johnson. I was once invited to give testimony in front of a congressional committee in D.C. but was unable to make it due to prior travel obligations.
The support of my work even extends to the DeSantis team as I was invited by Christina Pushaw to attend the Governor's Election Day event and Inauguration (which I was able to bring my cousin with me). And yes, Christina is awesome in person too.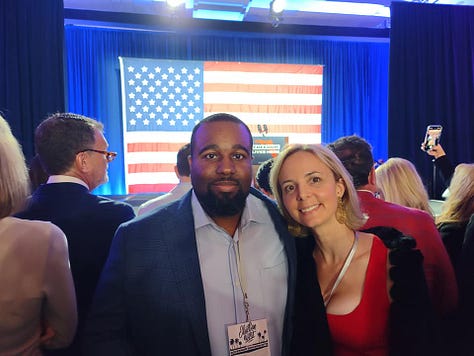 I could literally go on about all the extremely fortunate and crazy experiences I've had in the past couple of years. Like I stated before, I had no real expectations, so everything that has happened has been a blessing.
Today, I wear many hats as a full time writer, commentator and founder of
where our goal is to promote free speech & give lesser known people a platform to be heard. I am paying it forward to people who were like me that struggled to find their voice in the noise.
My story is an example of how if you work hard, improve on your skillset and network properly, you can find success.
The first step is to do something and many have trouble making that leap forward. You never know where it can lead you and who you'll touch along the way.
God put me on this path for a reason. I'm thankful for every person who has entered my life and I don't take anyone or experience for granted. There is more to come in 2023. God bless you all & thank you for your support.
Speaking Wrong At The Right Time is a reader-supported publication. To receive new posts and support my work, consider becoming a free or paid subscriber.